CBBT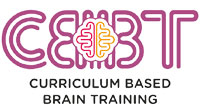 The Purpose :
Developing Logical Reasoning & Critical Thinking skills of a student in a structured way, by adopting a scientifically designed curriculum and well designed guided path.
The Pattern :
To begin with, every student undergoes a diagnostic aptitude test.
The curriculum is divided spread over chapters for each class.
With every chapter, one explanatory video and an e-book is provided.
The student can understand the chapter much better with the help of the video and e-book.
The Process :
One day after watching of the video, Drill 1 is made available to the student. The student takes the drill, which is in a multiple choice question format, with 4 options per question. For every question, 2 chances are offered for selecting the correct option. Once a question has been attempted, its solution is displayed and explained through a video with animations and voice over. Almost 80% of the questions are supported by video-based solutions.
Drill 2 is released after the next 1 day and
Drill 3 is released after the following 1 day.
After Drill 3, Critical Thinking booster is introduced to the student. It's an e-book (downloadable), which contains interesting puzzles, brain games, hands-on problem-solving activities, and covers various topics to enhance 10 different key skills.
The same pattern is adopted for all chapters.
The Result:
This structured and guided journey results in a lot of positive developments in students.
Highlights:
Gamified Interface.
Scientific Approach.
Screen-time made sensible.
Increased attention span.
Enhanced Cognitive skills.
Quicker information processing.
Better Logical Thinking & Reasoning.
Stronger Decision making & Planning skills.
Clearer understanding of curriculum.
Consistent scoring of higher marks.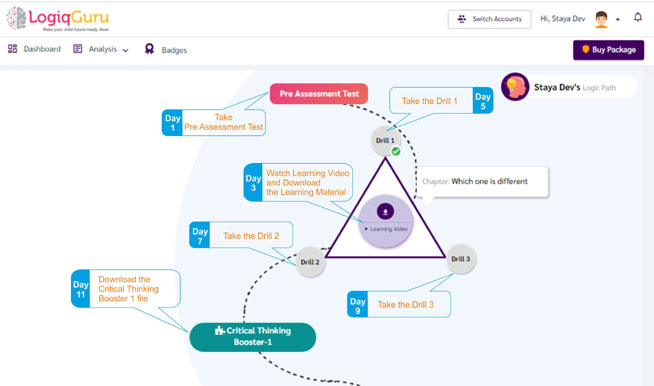 Syllabus
LKG
UKG
CLASS-1
CLASS-2
CLASS-3
CLASS-4
CLASS-5
CLASS-6
CLASS-7
CLASS-8
CLASS-9
CLASS-10
LKG Syllabus
Pre-Assessment Test
Which one is different?

Learning Material(PDF)
Learning Video
Drill-1
Drill-2
Drill-3
Critical Thinking Booster(PDF)

Matching Pair

Learning Material(PDF)
Learning Video
Drill-1
Drill-2
Drill-3
Critical Thinking Booster(PDF)

Assessment (Chapter 1 & 2)
Similar Shapes

Learning Material(PDF)
Learning Video
Drill-1
Drill-2
Drill-3
Critical Thinking Booster(PDF)

Complete the figure

Learning Material(PDF)
Learning Video
Drill-1
Drill-2
Drill-3
Critical Thinking Booster(PDF)

Assessment (Chapter 3 & 4)
Counting Figure / Shapes

Learning Material(PDF)
Learning Video
Drill-1
Drill-2
Drill-3
Critical Thinking Booster(PDF)

Grouping

Learning Material(PDF)
Learning Video
Drill-1
Drill-2
Drill-3
Critical Thinking Booster(PDF)

Assessment (Chapter 5 & 6)
Hidden Shapes

Learning Material(PDF)
Learning Video
Drill-1
Drill-2
Drill-3
Critical Thinking Booster(PDF)

Series

Learning Material(PDF)
Learning Video
Drill-1
Drill-2
Drill-3
Critical Thinking Booster(PDF)

Assessment (Chapter 7 & 8)
Final Assessment Test
UKG Syllabus
Pre-Assessment Test
Which one is different?

Learning Material(PDF)
Learning Video
Drill-1
Drill-2
Drill-3
Critical Thinking Booster(PDF)

Matching pair

Learning Material(PDF)
Learning Video
Drill-1
Drill-2
Drill-3
Critical Thinking Booster(PDF)

Assessment (Chapter 1 & 2)
Similar Shapes

Learning Material(PDF)
Learning Video
Drill-1
Drill-2
Drill-3
Critical Thinking Booster(PDF)

Complete the figure

Learning Material(PDF)
Learning Video
Drill-1
Drill-2
Drill-3
Critical Thinking Booster(PDF)

Assessment (Chapter 3 & 4)
Counting figure/Shape

Learning Material(PDF)
Learning Video
Drill-1
Drill-2
Drill-3
Critical Thinking Booster(PDF)

Grouping

Learning Material(PDF)
Learning Video
Drill-1
Drill-2
Drill-3
Critical Thinking Booster(PDF)

Assessment (Chapter 5 & 6)
Hidden Shapes

Learning Material(PDF)
Learning Video
Drill-1
Drill-2
Drill-3
Critical Thinking Booster(PDF)

Series

Learning Material(PDF)
Learning Video
Drill-1
Drill-2
Drill-3
Critical Thinking Booster(PDF)

Assessment (Chapter 7 & 8)
Final Assessment Test
Class-1 Syllabus
Pre-Assessment Test
Which one is different?

Learning Material(PDF)
Learning Video
Drill-1
Drill-2
Drill-3
Critical Thinking Booster(PDF)

Analogy

Learning Material(PDF)
Learning Video
Drill-1
Drill-2
Drill-3
Critical Thinking Booster(PDF)

Assessment (Chapter 1 & 2)
What comes next?

Learning Material(PDF)
Learning Video
Drill-1
Drill-2
Drill-3
Critical Thinking Booster(PDF)

Similar Shapes

Learning Material(PDF)
Learning Video
Drill-1
Drill-2
Drill-3
Critical Thinking Booster(PDF)

Assessment (Chapter 3 & 4)
Complete the figure

Learning Material(PDF)
Learning Video
Drill-1
Drill-2
Drill-3
Critical Thinking Booster(PDF)

Analytical Reasoning

Learning Material(PDF)
Learning Video
Drill-1
Drill-2
Drill-3
Critical Thinking Booster(PDF)

Assessment (Chapter 5 & 6)
Grouping

Learning Material(PDF)
Learning Video
Drill-1
Drill-2
Drill-3
Critical Thinking Booster(PDF)

Hidden Shapes

Learning Material(PDF)
Learning Video
Drill-1
Drill-2
Drill-3
Critical Thinking Booster(PDF)

Assessment (Chapter 7 & 8)
Shadows

Learning Material(PDF)
Learning Video
Drill-1
Drill-2
Drill-3
Critical Thinking Booster(PDF)

Spot the Differences

Learning Material(PDF)
Learning Video
Drill-1
Drill-2
Drill-3
Critical Thinking Booster(PDF)

Assessment (Chapter 9 & 10)
Final Assessment Test
Class-2 Syllabus
Pre-Assessment Test
Which one is different?

Learning Material(PDF)
Learning Video
Drill-1
Drill-2
Drill-3
Critical Thinking Booster(PDF)

Analogy

Learning Material(PDF)
Learning Video
Drill-1
Drill-2
Drill-3
Critical Thinking Booster(PDF)

Assessment (Chapter 1 & 2)
What comes next?

Learning Material(PDF)
Learning Video
Drill-1
Drill-2
Drill-3
Critical Thinking Booster(PDF)

Which shape is similar?

Learning Material(PDF)
Learning Video
Drill-1
Drill-2
Drill-3
Critical Thinking Booster(PDF)

Assessment (Chapter 3 & 4)
Analytical Reasoning

Learning Material(PDF)
Learning Video
Drill-1
Drill-2
Drill-3
Critical Thinking Booster(PDF)

Hidden Shapes

Learning Material(PDF)
Learning Video
Drill-1
Drill-2
Drill-3
Critical Thinking Booster(PDF)

Assessment (Chapter 5 & 6)
Mathematical Reasoning

Learning Material(PDF)
Learning Video
Drill-1
Drill-2
Drill-3
Critical Thinking Booster(PDF)

Complete the Shape

Learning Material(PDF)
Learning Video
Drill-1
Drill-2
Drill-3
Critical Thinking Booster(PDF)

Assessment (Chapter 7 & 8)
Positions

Learning Material(PDF)
Learning Video
Drill-1
Drill-2
Drill-3
Critical Thinking Booster(PDF)

Connecting dots

Learning Material(PDF)
Learning Video
Drill-1
Drill-2
Drill-3
Critical Thinking Booster(PDF)

Assessment (Chapter 9 & 10)
Final Assessment Test
Class-3 Syllabus
Pre-Assessment Test
Which one is different

Learning Material(PDF)
Learning Video
Drill-1
Drill-2
Drill-3
Critical Thinking Booster(PDF)

Analogy

Learning Material(PDF)
Learning Video
Drill-1
Drill-2
Drill-3
Critical Thinking Booster(PDF)

Assessment (Chapter 1 & 2)
What comes next

Learning Material(PDF)
Learning Video
Drill-1
Drill-2
Drill-3
Critical Thinking Booster(PDF)

Analytical Reasoning

Learning Material(PDF)
Learning Video
Drill-1
Drill-2
Drill-3
Critical Thinking Booster(PDF)

Assessment (Chapter 3 & 4)
Directions & Positions

Learning Material(PDF)
Learning Video
Drill-1
Drill-2
Drill-3
Critical Thinking Booster(PDF)

Letter codes

Learning Material(PDF)
Learning Video
Drill-1
Drill-2
Drill-3
Critical Thinking Booster(PDF)

Assessment (Chapter 5 & 6)
Shape after addition

Learning Material(PDF)
Learning Video
Drill-1
Drill-2
Drill-3
Critical Thinking Booster(PDF)

Grouping

Learning Material(PDF)
Learning Video
Drill-1
Drill-2
Drill-3
Critical Thinking Booster(PDF)

Assessment (Chapter 7 & 8)
Alphabet Test

Learning Material(PDF)
Learning Video
Drill-1
Drill-2
Drill-3
Critical Thinking Booster(PDF)

Word Formation

Learning Material(PDF)
Learning Video
Drill-1
Drill-2
Drill-3
Critical Thinking Booster(PDF)

Assessment (Chapter 9 & 10)
Complete the two words

Learning Material(PDF)
Learning Video
Drill-1
Drill-2
Drill-3
Critical Thinking Booster(PDF)

Compound Words

Learning Material(PDF)
Learning Video
Drill-1
Drill-2
Drill-3
Critical Thinking Booster(PDF)

Assessment (Chapter 11 & 12)
Final Assessment Test
Class-4 Syllabus
Pre-Assessment Test
Which one is different

Learning Material(PDF)
Learning Video
Drill-1
Drill-2
Drill-3
Critical Thinking Booster(PDF)

Analogy

Learning Material(PDF)
Learning Video
Drill-1
Drill-2
Drill-3
Critical Thinking Booster(PDF)

Assessment (Chapter 1 & 2)
What comes next

Learning Material(PDF)
Learning Video
Drill-1
Drill-2
Drill-3
Critical Thinking Booster(PDF)

Analytical Reasoning

Learning Material(PDF)
Learning Video
Drill-1
Drill-2
Drill-3
Critical Thinking Booster(PDF)

Assessment (Chapter 3 & 4)
Inserting Numbers

Learning Material(PDF)
Learning Video
Drill-1
Drill-2
Drill-3
Critical Thinking Booster(PDF)

Break the codes

Learning Material(PDF)
Learning Video
Drill-1
Drill-2
Drill-3
Critical Thinking Booster(PDF)

Assessment (Chapter 5 & 6)
Shape after adding

Learning Material(PDF)
Learning Video
Drill-1
Drill-2
Drill-3
Critical Thinking Booster(PDF)

After subtraction

Learning Material(PDF)
Learning Video
Drill-1
Drill-2
Drill-3
Critical Thinking Booster(PDF)

Assessment (Chapter 7 & 8)
Block Test

Learning Material(PDF)
Learning Video
Drill-1
Drill-2
Drill-3
Critical Thinking Booster(PDF)

Alphabet Test

Learning Material(PDF)
Learning Video
Drill-1
Drill-2
Drill-3
Critical Thinking Booster(PDF)

Assessment (Chapter 9 & 10)
Compound Words

Learning Material(PDF)
Learning Video
Drill-1
Drill-2
Drill-3
Critical Thinking Booster(PDF)

Word Formation

Learning Material(PDF)
Learning Video
Drill-1
Drill-2
Drill-3
Critical Thinking Booster(PDF)

Assessment (Chapter 11 & 22)
Final Assessment Test
Class-5 Syllabus
Pre-Assessment Test
Break the codes

Learning Material(PDF)
Learning Video
Drill-1
Drill-2
Drill-3
Critical Thinking Booster(PDF)

Where is it hidden

Learning Material(PDF)
Learning Video
Drill-1
Drill-2
Drill-3
Critical Thinking Booster(PDF)

Assessment (Chapter 1 & 2)
Mathematical Reasoning

Learning Material(PDF)
Learning Video
Drill-1
Drill-2
Drill-3
Critical Thinking Booster(PDF)

Analytical Reasoning

Learning Material(PDF)
Learning Video
Drill-1
Drill-2
Drill-3
Critical Thinking Booster(PDF)

Assessment (Chapter 3 & 4)
Mirror Images

Learning Material(PDF)
Learning Video
Drill-1
Drill-2
Drill-3
Critical Thinking Booster(PDF)

Which one is different

Learning Material(PDF)
Learning Video
Drill-1
Drill-2
Drill-3
Critical Thinking Booster(PDF)

Assessment (Chapter 5 & 6)
Analogy

Learning Material(PDF)
Learning Video
Drill-1
Drill-2
Drill-3
Critical Thinking Booster(PDF)

What comes next

Learning Material(PDF)
Learning Video
Drill-1
Drill-2
Drill-3
Critical Thinking Booster(PDF)

Assessment (Chapter 7 & 8)
Alphabetical order

Learning Material(PDF)
Learning Video
Drill-1
Drill-2
Drill-3
Critical Thinking Booster(PDF)

Find the hidden words

Learning Material(PDF)
Learning Video
Drill-1
Drill-2
Drill-3
Critical Thinking Booster(PDF)

Assessment (Chapter 9 & 10)
Complete the two words

Learning Material(PDF)
Learning Video
Drill-1
Drill-2
Drill-3
Critical Thinking Booster(PDF)

Word Formation

Learning Material(PDF)
Learning Video
Drill-1
Drill-2
Drill-3
Critical Thinking Booster(PDF)

Assessment (Chapter 11 & 12)
Final Assessment Test
Class-6 Syllabus
Pre-Assessment Test
Which one is different

Learning Material(PDF)
Learning Video
Drill-1
Drill-2
Drill-3
Critical Thinking Booster(PDF)

Analogy

Learning Material(PDF)
Learning Video
Drill-1
Drill-2
Drill-3
Critical Thinking Booster(PDF)

Assessment (Chapter 1 & 2)
What comes next

Learning Material(PDF)
Learning Video
Drill-1
Drill-2
Drill-3
Critical Thinking Booster(PDF)

Break the codes

Learning Material(PDF)
Learning Video
Drill-1
Drill-2
Drill-3
Critical Thinking Booster(PDF)

Assessment (Chapter 3 & 4)
Analytical Reasoning

Learning Material(PDF)
Learning Video
Drill-1
Drill-2
Drill-3
Critical Thinking Booster(PDF)

Mathematical Reasoning

Learning Material(PDF)
Learning Video
Drill-1
Drill-2
Drill-3
Critical Thinking Booster(PDF)

Assessment (Chapter 5 & 6)
Mirror Image

Learning Material(PDF)
Learning Video
Drill-1
Drill-2
Drill-3
Critical Thinking Booster(PDF)

Paper Folding

Learning Material(PDF)
Learning Video
Drill-1
Drill-2
Drill-3
Critical Thinking Booster(PDF)

Assessment (Chapter 7 & 8)
Opened Out

Learning Material(PDF)
Learning Video
Drill-1
Drill-2
Drill-3
Critical Thinking Booster(PDF)

Jumbled words

Learning Material(PDF)
Learning Video
Drill-1
Drill-2
Drill-3
Critical Thinking Booster(PDF)

Assessment (Chapter 9 & 10)
Using letters for numbers

Learning Material(PDF)
Learning Video
Drill-1
Drill-2
Drill-3
Critical Thinking Booster(PDF)

Compound Words

Learning Material(PDF)
Learning Video
Drill-1
Drill-2
Drill-3
Critical Thinking Booster(PDF)

<
Assessment (Chapter 1 & 2)
Final Assessment Test
Class-7 Syllabus
Pre-Assessment Test
Which one is different

Learning Material(PDF)
Learning Video
Drill-1
Drill-2
Drill-3
Critical Thinking Booster(PDF)

Analogy

Learning Material(PDF)
Learning Video
Drill-1
Drill-2
Drill-3
Critical Thinking Booster(PDF)

Assessment (Chapter 1 & 2)
What comes next

Learning Material(PDF)
Learning Video
Drill-1
Drill-2
Drill-3
Critical Thinking Booster(PDF)

Break the codes

Learning Material(PDF)
Learning Video
Drill-1
Drill-2
Drill-3
Critical Thinking Booster(PDF)

Assessment (Chapter 3 & 4)
Mathematical Reasoning

Learning Material(PDF)
Learning Video
Drill-1
Drill-2
Drill-3
Critical Thinking Booster(PDF)

Direction sense

Learning Material(PDF)
Learning Video
Drill-1
Drill-2
Drill-3
Critical Thinking Booster(PDF)

Assessment (Chapter 5 & 6)
Analytical reasoning

Learning Material(PDF)
Learning Video
Drill-1
Drill-2
Drill-3
Critical Thinking Booster(PDF)

Mirror Images

Learning Material(PDF)
Learning Video
Drill-1
Drill-2
Drill-3
Critical Thinking Booster(PDF)

Assessment (Chapter 7 & 8)
Folded in

Learning Material(PDF)
Learning Video
Drill-1
Drill-2
Drill-3
Critical Thinking Booster(PDF)

Making one word from two

Learning Material(PDF)
Learning Video
Drill-1
Drill-2
Drill-3
Critical Thinking Booster(PDF)

Assessment (Chapter 9 & 10)
Word formation

Learning Material(PDF)
Learning Video
Drill-1
Drill-2
Drill-3
Critical Thinking Booster(PDF)

Using letters for numbers

Learning Material(PDF)
Learning Video
Drill-1
Drill-2
Drill-3
Critical Thinking Booster(PDF)

Assessment (Chapter 11 & 12)
Final Assessment Test
Class-8 Syllabus
Pre-Assessment Test
Which one is different

Learning Material(PDF)
Learning Video
Drill-1
Drill-2
Drill-3
Critical Thinking Booster(PDF)

Analogy

Learning Material(PDF)
Learning Video
Drill-1
Drill-2
Drill-3
Critical Thinking Booster(PDF)

Assessment (Chapter 1 & 2)
What comes next

Learning Material(PDF)
Learning Video
Drill-1
Drill-2
Drill-3
Critical Thinking Booster(PDF)

Direction Sense

Learning Material(PDF)
Learning Video
Drill-1
Drill-2
Drill-3
Critical Thinking Booster(PDF)

Assessment (Chapter 3 & 4)
Mathematical Reasoning

Learning Material(PDF)
Learning Video
Drill-1
Drill-2
Drill-3
Critical Thinking Booster(PDF)

Paper Cutting

Learning Material(PDF)
Learning Video
Drill-1
Drill-2
Drill-3
Critical Thinking Booster(PDF)

Assessment (Chapter 5 & 6)
Mirror Image

Learning Material(PDF)
Learning Video
Drill-1
Drill-2
Drill-3
Critical Thinking Booster(PDF)

Cubes and Dice

Learning Material(PDF)
Learning Video
Drill-1
Drill-2
Drill-3
Critical Thinking Booster(PDF)

Assessment (Chapter 7 & 8)
Analytical Reasoning

Learning Material(PDF)
Learning Video
Drill-1
Drill-2
Drill-3
Critical Thinking Booster(PDF)

Logical Sequence of words

Learning Material(PDF)
Learning Video
Drill-1
Drill-2
Drill-3
Critical Thinking Booster(PDF)

Assessment (Chapter 9 & 10)
Jumbled words

Learning Material(PDF)
Learning Video
Drill-1
Drill-2
Drill-3
Critical Thinking Booster(PDF)

Simple letter codes

Learning Material(PDF)
Learning Video
Drill-1
Drill-2
Drill-3
Critical Thinking Booster(PDF)

Assessment (Chapter 11 & 12)
Final Assessment Test
Class-9 Syllabus
Pre-Assessment Test
Which one is different

Learning Material(PDF)
Learning Video
Drill-1
Drill-2
Drill-3
Critical Thinking Booster(PDF)

Analogy

Learning Material(PDF)
Learning Video
Drill-1
Drill-2
Drill-3
Critical Thinking Booster(PDF)

Assessment (Chapter 1 & 2)
What comes next

Learning Material(PDF)
Learning Video
Drill-1
Drill-2
Drill-3
Critical Thinking Booster(PDF)

Mirror and Water image

Learning Material(PDF)
Learning Video
Drill-1
Drill-2
Drill-3
Critical Thinking Booster(PDF)

Assessment (Chapter 3 & 4)
Direction sense

Learning Material(PDF)
Learning Video
Drill-1
Drill-2
Drill-3
Critical Thinking Booster(PDF)

Mathematical reasoning

Learning Material(PDF)
Learning Video
Drill-1
Drill-2
Drill-3
Critical Thinking Booster(PDF)

Assessment (Chapter 5 & 6)
Blood relations

Learning Material(PDF)
Learning Video
Drill-1
Drill-2
Drill-3
Critical Thinking Booster(PDF)

Cubes and Dice

Learning Material(PDF)
Learning Video
Drill-1
Drill-2
Drill-3
Critical Thinking Booster(PDF)

Assessment (Chapter 7 & 8)
Analytical reasoning

Learning Material(PDF)
Learning Video
Drill-1
Drill-2
Drill-3
Critical Thinking Booster(PDF)

Change one word into another

Learning Material(PDF)
Learning Video
Drill-1
Drill-2
Drill-3
Critical Thinking Booster(PDF)

Assessment (Chapter 9 & 10)
Create word

Learning Material(PDF)
Learning Video
Drill-1
Drill-2
Drill-3
Critical Thinking Booster(PDF)

Insert a Letter

Learning Material(PDF)
Learning Video
Drill-1
Drill-2
Drill-3
Critical Thinking Booster(PDF)

Assessment (Chapter 11 & 12)
Final Assessment Test
Class-10 Syllabus
Pre-Assessment Test
Which one is different

Learning Material(PDF)
Learning Video
Drill-1
Drill-2
Drill-3
Critical Thinking Booster(PDF)

Analogy

Learning Material(PDF)
Learning Video
Drill-1
Drill-2
Drill-3
Critical Thinking Booster(PDF)

Assessment (Chapter 1 & 2)
What comes next

Learning Material(PDF)
Learning Video
Drill-1
Drill-2
Drill-3
Critical Thinking Booster(PDF)

Mirror and Water Images

Learning Material(PDF)
Learning Video
Drill-1
Drill-2
Drill-3
Critical Thinking Booster(PDF)

Assessment (Chapter 3 & 4)
Direction sense

Learning Material(PDF)
Learning Video
Drill-1
Drill-2
Drill-3
Critical Thinking Booster(PDF)

Blood relations

Learning Material(PDF)
Learning Video
Drill-1
Drill-2
Drill-3
Critical Thinking Booster(PDF)

Assessment (Chapter 5 & 6)
Mathematical Reasoning

Learning Material(PDF)
Learning Video
Drill-1
Drill-2
Drill-3
Critical Thinking Booster(PDF)

Cubes and Dice

Learning Material(PDF)
Learning Video
Drill-1
Drill-2
Drill-3
Critical Thinking Booster(PDF)

Assessment (Chapter 7 & 8)
Analytical Reasoning

Learning Material(PDF)
Learning Video
Drill-1
Drill-2
Drill-3
Critical Thinking Booster(PDF)

Three missing letters make a word

Learning Material(PDF)
Learning Video
Drill-1
Drill-2
Drill-3
Critical Thinking Booster(PDF)

Assessment (Chapter 9 & 10)
Jumbled words

Learning Material(PDF)
Learning Video
Drill-1
Drill-2
Drill-3
Critical Thinking Booster(PDF)

Coding and De-coding

Learning Material(PDF)
Learning Video
Drill-1
Drill-2
Drill-3
Critical Thinking Booster(PDF)

Assessment (Chapter 11 & 12)
Final Assessment Test
Buy now